Best time to visit Chikmagalur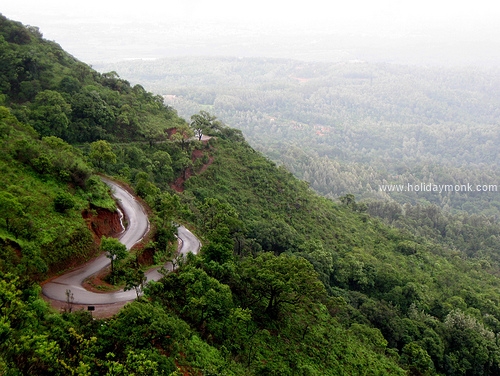 Rains are heavy during monsoon. Winters are cool and summers are humid, but evenings are pleasant.
Weather in Chikmagalur
Best time to visit Chikmagalur
This Western Ghats region is dotted with endless green meadows, cascading waterfalls and mist clad hills. With different seasons revealing a new colour of this hamlet each time, the weather doesn't change drastically, enabling you to visit any time of the year. Hence, it is up to you to decide when to head to Chikmagalur this year.
We, at Chikmagalur Stays, will help you make a decision by listing out details of each season prominent in Chikmagalur. We have put down information that you may be looking for in order to choose the most suitable time to travel. We have also listed for you the precautions that you must take before and while you are on your trip. It is always important to weigh the pros and cons of each option that you are considering and be wary of the risks that come with them. Let us make this decision together. 
Peak Season – Temperatures range from 14°C and 32°C in the peak season. This is between the months of September and February. Winter in Chikmagalur is characterized with a constant chill in the air which gives you the enthusiasm to explore the way of life of this hamlet and its many picturesque spots and verdant landscapes. 
Shoulder Season – April to August, December to February and June to September
| | | |
| --- | --- | --- |
| Travel Seasons | Min/Max Temperature | Weather |
| March to June | 27-35°C | Summer – Hot and sunny |
| July to September | 18-26 °C | Monsoon – Moderate rainfall |
| September to February | 14-32°C | Winter – Cold and pleasant |
Chikmagalur in Summer (April– June)
Temperature – The air temperature during the season of summer fluctuates between 27°C and 35°C.
Weather – Located in Southern Karnataka, the crystalline waterfalls of this hamlet reflect the dancing light coming from the sun. With shades of green being accentuated by the rays of the sun, this hill station shimmers during the summer season. This is the perfect weather to trek or walk over the exciting trails that Chikmanglur offers.
Significant events – With the weather being pleasant throughout the year and the hamlet receiving a rather fair amount of winds during the summer season, there are a wide range of events and festivals that take place at this time. One of the main highlights of this season is the Kori Katta festival that is celebrated in May that comprises cock fighting. This festival attracts tourists from all over the world and is a popular rural sport of this coastal region.
Why you should visit now – This time of the month, though warm; never escalates to scorching levels. This is the best time to visit in case you are an adventure enthusiast and want to engage in some sightseeing and trekking activities with your family. Head to Kudurekuha Jamly, where the endless meadows make it a popular trekking and hiking spot for tourists. Translating to horse face, one can also see a certain part of the mountain range resembling the face of a horse. You can head to the Lakya Dam Lake and make it your picnic spot, as you enjoy some snacks, overlooking the sparkling water.
Things to know before the visit – This is the shoulder season and with less tourists on the move you may get some special discounts or offers while booking your tickets and accommodation.
Tips – Make sure to carry sunscreen and glasses to keep yourself warm and safe from the sun. Carry lightweight, cotton clothes that are comfortable to move around in. Do carry mosquito repellents too. Make sure that the hotels you book are accessible and central.
Chikmagalur in Monsoon (July – September)
Temperature – The air temperature during the season of monsoon ranges between 28°C and 35°C.
Weather – The rains at this time of the year leaves Chikmanglur shimmering with sparkling droplets of rain sprinkled all over it. This is the best time to witness the hill station in its prime. The lush green meadows, freshly bathed streets and carpeted hills will make your drive through the Western Ghats one to remember. The showery season also brings with it glimmering waterfalls, slipping down the green hills in full flow. Meandering streams, rain droplets forming ripples on the water and cascading waterfalls as clouds kiss the mist clad peaks- this is what monsoon is like in Chikmagalur.
Significant events – Like the rains weren't enough to attract tourists from all around the world, this showery season also brings with it, interesting festivals. One of the main highlights of this time of the year is the Onam festival celebrated in the month of September. History says that Onam is celebrated to welcome King Mahabali- whose spirt is believed to be a frequent visitor during this festival. It is celebrated by creating the Pookalam which is the Onam floral Rangoli made by an intricate arrangement of colourful flowers on the floor. This is done to welcome their beloved king.
Why you should visit now – A cup of hot beverage can best be relished amidst the lush green mountains and cascading waterfalls. With the humidity in the air being washed away by the Rain Gods, the weather remains cool and pleasant. Head to Hirekolale Lake to enjoy a slice of nature amidst quiet waters, towering mountains and aromatic coffee plantations. This is also a good time to head to the Yagachi Dam to try out some water sport activities.
Things to know before the visit – Do check the weather reports before booking your tickets as Chikmagalur does receive heavy rainfall at times. Make sure that you plan your itinerary according to the weather – during heavy downpours you might not get a clear view of the valleys and mountains. 
Tips – Carry light weight and waterproof clothes to protect yourself from the heavy rainfall. Always carry an umbrella before you head out and keep a mosquito repellent with you.
Chikmagalur in Winter (September – February)
Temperature – The air temperature during the season of winter fluctuates between 14°C and 32°C.
Weather – The weather of Chikmagalur in winter is cool and pleasant with a slight chill in the air, making it the best time to visit Chikmagalur in. This time of the year is cosy as the soft, warm rays of the sun make you want to head out and explore the hamlet while the light, cool breeze in the night makes you want to snuggle under the blanket with your loved ones.
Significant events – The winter season brings with it, festivals that you will remember long after you leave Chikmagalur. One of the main highlights of this season- celebrated in the month of December- is the Bhuta Kola festival. This festival is also addressed as the dance of the spirits and comprises of performance-based rituals that aim to invoke spirits, deities of all kinds, ancestors and heroes. This festival is not just a dance show but an entire ritual on its own. The performers are spiritually trained and also have to adhere to certain restrictions.
Why you should visit now – This time of the year is bustling with activity and tourists due to the agreeable weather. You will never come across a single dull moment during this season. This time of the year is just perfect for sightseeing and exploring as much as you want to since it is neither too hot nor cold. Do not forget to head to Chikmagalur's coffee plantations and sip on this hot beverage during these chilly months.
Things to know before the visit – Make sure that you book your tickets and accommodation well in advance since this is the peak season. Plan your itineraries according to the weather.
Tips – Carry warm clothes, light sweaters and shawls since mornings and nights may get rather chilly.
Charmed by Chikmagalur? Then head over to our Holiday packages to a book a holiday to this heavenly hill station!