Homestays in Chikmagalur
For those of you looking for a more relaxed visit to Chikmagalur there are many homestays in Chikmagalur district run by traditional Malnad families that are more about coffee plantation stays in Chikmagalur. Since 1850s many traditional families are growing coffee, tea, pepper and cardamom for their living. These are coffee plantations with bungalows, houses or traditional Malnad houses which are converted to homestays. The concept of homestays gained popularity in 1990s. Some of the good curated resorts in Chikmagalur which have come up with swimming pool, rope activities and adventure sports.
List of Best Homestays in Chikmagalur
Chikmagalur as a Weekend Getaway Destination
Chikmagalur in recent years became one of the most hot destination in Karnataka for travelers from across India to spend holiday with Chikmagalur family and to experience joy with nature. People are finding Chikmagalur as their nearest weekend getaway destination. We have handpicked some of the best homestays that shares true ethics of homestay concepts. People can easy select one of the homestay according to their choice and leave a message to us, rest we will take care.
Chikmagalur homestay visitors include couples, family groups, friends group and corporate teams. The requirements of each group varies from laid back holiday relaxation to adventure activities that include trekking, water sports and games. We cater to all the types of crowds those seeking experiential stays to adventure holiday seekers. Collectively it's all our duty towards taking the pristine Chikmagalur district towards eco-tourism and sustainability for future needs of younger generation.
Best Experiential Homestay in Chikmagalur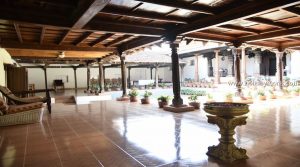 To experience a relaxed holiday, staying at homestays run by traditional Malnad family will give you an insight into Coffee planter's life, Coffee culture, local culture and traditions of Malnad who are known for their hospitality.
Malnad Food
You get to taste traditional Malnad food that are authentic and unique cuisine in South India, which is predominantly rice based- Akki rotti. Shevige Kesa, different variety of pickles, Honey and wine. Non-veg menu like fish, country chicken, pork and mutton.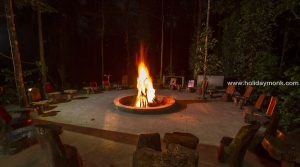 The homestays will arrange visit to coffee plantations, wildlife safaris, trek to nearest hill with permissions from forest department, Waterfalls, nearest temples and places of importance etc. Your day won't be complete without a bonfire and barbeque, so the host will arrange it to you.
Seasonal Fruits
Many homestays grow fruits at their backyard like oranges. Lychee, Guava, Jamun, Sapota, Pineapple, Jack fruit, Mango, star fruit, dragon fruit, Anjeer that is seasonal, wines are made out of these fruits.
Role of Homestays In Chikmagalur Tourism
Stays in Chikmagalur
Homestays in Chikmagalur are one of the best accommodation option available, as there are lots of other staying options like Home stays, hotels, tree huts…. Chikmagalur homestays is a best way to stay and enjoy your holidays. With your family members and to forget your hectic office days. You will get delicious Malnad cuisine in the Chikmagalur Homestay to taste and enjoy.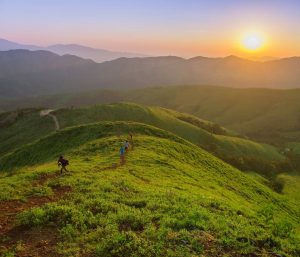 Staying in Chikmagalur is one of the most favorite choice for the tourists. From the homestay, visitors can rejuvenate their body and mind. Removing tension and also a well relief for the children from the busy school life. When you leave the homestay you will be recharged and refreshed. All your energy will be restored.
Chikmagalur Homestays with best Rating
Accommodation
Chikmagalur homestays with highest user ratings are one of the best way to choose or rate an accommodation. Looking for a quiet and calm environment go for a homestay which is situated in a village, where you will get nice homely host and homely food prepared by themselves with your choice. Extra expenses can be reduced and you can live like Chikmagalur Villagers.
How to Choose a Homestay in Chikmagalur?

1. View of the coffee plantation or nature from your homestay

The best vacation mornings in Chikmagalur start with the refreshing view of coffee estates in Chikmagalur which is unique and can be experienced only in a few places in the world when you wake up and remove your curtains or come out to the balcony. The best homestays in Chikmagalur offer rooms that have a verdant view of green slopped mountains from the glass windows of the room. If possible when you make a reservation, just confirm in advance about the view of the coffee estates in Chikmagalur from your room with your booking partner.
2. Review online reviews and ratings for your homestay
There are multiple ways like TripAdvisor and Google My Business that provide detailed reviews and tips from guests who have already stayed in various homestays in Chikmagalur. Go through the reviews and that will help you shortlist some of the best homestays in Chikmagalur and the rooms that are apt for you and always remember that what may be best for someone else may not be the best for you. There is a handy section of tips on most online sites that provides tips from guests who have already stayed in the homestay which can be quite useful in shortlisting what is best for you.
3. Distance from Chikmagalur Town
Chikmagalur boasts of several homestays and cottages that suits guests from friends, couple to family groups. Around Chikmagalur, there are several tourist spots for guests who are visiting Chikmagalur but to enjoy Chikmagalur to the maximum you need to stay at the right homestay that will offer you best hospitality from local hosts. Along with the views of the coffee plantations also consider the distance from the Chikmagalur town as the traveling through the winding hills in Chikmagalur takes time to reach the destination. Consider the distance from Chikmagalur town when you shortlist your homestay in Chikmagalur or consider extending your stay for one more day.
4. Guests hospitality of the Homestay
Stay in the best homestay that should provide guidance, recreation and friendly host to the holiday seekers and couples. The superiority of the hospitality of the host in the homestay is what differentiates the best from the rest. Only the homestays that can offer tasty malnad food and quality service to guests will offer you a great vacation experience.
5. Your Budget
The last consideration is your own budget. If you cannot afford the most luxurious homestay in Chikmagalur, look for more affordable alternatives that are just as exotic and offer the same amenities so that you have a comfortable time.
FAQs About Homestays in Chikmagalur
What are the best homestays in Chikmagalur?
Be inspired by our collection of best homestays in Chikmagalur are Authentic Bungalow Homestay, Family Run Heritage Homestay, Mekanagadde Homestay, Tea Plantation Homestay, Beanzone Homestay, Travelers Bungalow Homestay, Avathi Homestay, Keremakki Estate Homestay, Bed and Breakfast Stay near Bhadra Wildlife Sanctuary, Mullayanagiri Hill View Homestay, Coffee Plantation Homestay and Coffee Estate Homestay Near Belur.
What is the price range of Homestays in Chikmagalur?
Good homestays in Chikmagalur starts at 1800 Rs to 3500 Rs. Since homestays are remotly placed far away from city, most of them provide AP meals included in tariff.
Homestays close to town provide homestay with cheaper rates without proper hospitality and nature.

Which are the swimming pool homestays in Chikmagalur?
Looking for a homestay with swimming pool to have fun under the sun. Here is a list of homestays with swimming pool in Chikmagalur – Luxury Homestay Near Mullayanagiri
How far is Chikmagalur from Bangalore?
Bangalore to Chikmagalur distance is 245 Km via NH 75. Nearest airports are Mangalore and Bangalore.
What are the best Chikmagalur homestays for family?
Have unique cultural experience with host families. Book homestays at Beanzone Homestay, Premium Nature Retreat in Chikmagalur, Family Run Heritage Homestay, Giri Homestay near Baba Budangiri, Veg Homestay Near Chikmagalur, Chikkamagaluru Heritage Homestay, Authentic Bungalow Homestay, Mullayanagiri Hill View Homestay, Coffee Plantation Homestay, Bed and Breakfast Stay near Bhadra Wildlife Sanctuary, Travelers Bungalow Homestay, Tea Plantation Homestay and Mekanagadde Homestay.
What is the temperature in Chikmagalur in June Monsoon Season?
Chikmagalur on whole receives a good amount of rainfall during monsoon that extends from June to September. The average temperature min 20° C and max 28° C.
How many days will it take to see Chikmagalur?
Chikmagalur is moderately a big district consisting of many beautiful mountains, waterfalls and wildlife extended everywhere , so requires two to three days.
What are the things to do in Chikmagalur?
Things to do in Chikmagalur: Trekking at Mullayanagiri, Explore Caves at Baba Budangiri, Visit Kemmangundi, Explore the Coffee Culture of Chikmagalur, Take a ride to Hebbe Falls, Play a golf game at Chikmagalur Golf Club, Rafting at Bhadra, Explore Bhadra Wildlife Sanctuary, Explore Kalasa, Trekking to Ettina Bhuja near Mudigere, Visit Beautiful hideaway Devaramane
What are the places to visit in Chikmagalur?
Mullayanagiri – Tapasvi Mullappa Swamy Temple, Sunset Point, and Nandi Statue. Z Point – Trekking, and mountain biking 
Baba Budangiri – Dattatreya peetha, and Baba Budan Giri Dargah, Hebbe Falls
Veera Narayana Temple
Bhadra Wildlife Sanctuary 
Coffee Museum Chikmagalur
Hirekolale Lake
Mudigere – Ettina Bhuja Trekking, Devaramane, Pandavar Gudda
Kalasa –
— Kudremukh – Bhagavathi Nature Camp, Surimale Falls, and Kadambi Waterfalls. 
— Horanadu Annapoorneshwari Temple 
Sringeri – Sringeri Sharada Peetham, Sirimane waterfalls
How far is Chikmagalur from Bangalore?
Bangalore to Chikmagalur distance is 245 Km via NH 75. Nearest airports are Mangalore and Bangalore.
Which location have largest number of Homestays in Chikmagalur?
Chikmagalur taluk has the highest number of homestays in Chikmagalur. If you want to avoid crowded places then you can check Mudigere, Koppa and Kalasa regions.
Is Chikmagalur too hot in Summer
No. Except in town limits the temperature remains cool in high altitudes, estate and forest covers.
Are dogs allowed at homestay?
Yes dogs are allowed but not all homestays allow pets. There are pet-friendly homestays which we can help you in finding the best to you.