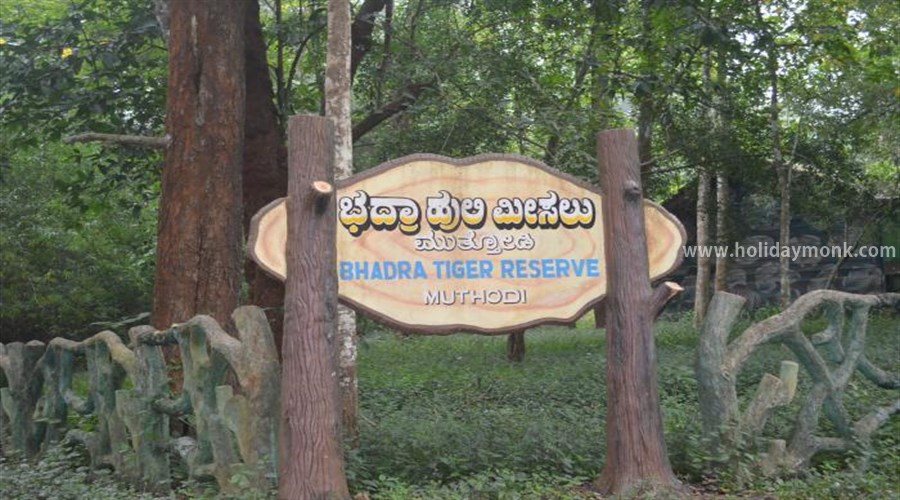 Bhadra Wildlife Sanctuary
The district with dense tropical evergreen forests interspersed with lush grassy slopes is endowed with a rich and varied fauna, abundantly seen at the Bhadra Wildlife Sanctuary, 38 kms north – west of Chickmagalur town. The sanctuary surrounded by hills has the tributaries of the Bhadra river flowing through it. The western border of the sanctuary abuts the back waters of the Bhadra Reservoir which has a catchment area of 1,968 kms. surrounded by scenic hills and steep slopes. A diverse and exciting range in wild life is found here – bison, elephants, tiger, panther, sambar, spotted deer, wild beer, porcupine, birds like the peacock, parrot, partridge, pigeon, etc. and reptiles such as cobra, python etc. All these wild beasts can be viewed while driving along the 150 km long roads maintained inside the sanctuary.
Bhadra Wildlife Sanctuary situated in the midst of Western Ghats in Chikmagalur and Shimoga districts of Karnataka. It is about 275 kms from Bangalore and 38 kms from Chikmagalur town and covers an area of 492.46 Kms. The Bhadra Wildlife Sanctuary boasts of a substantial tiger population It was declared as the 25th Project Tiger of India in 1998.
Kallahathigiri is the higest peak in the sanctuary with a height of 1,875 Mts. Kemmannugundi and Bababuden Hills, are within the sanctuary.
The lush green vegetation and lofty hill ranges are a beautiful and spectacular. The wildlife sanctuary is called so after the Bhadra River which flows through the lush forests. The lush green vegetation of the Bhadra Wildlife Sanctuary consists of mostly moist and dry deciduous forests. More than 120 species of trees grow here, which include Teak, Rosewood, Mathi, Honne, Nandi, Tadasalu and Kindal.
Bhadra is popularly known as Muthodi Wildlife Sanctuary, after the village on its fringes. Jeep safari is worth going and for photographers it's a delight.