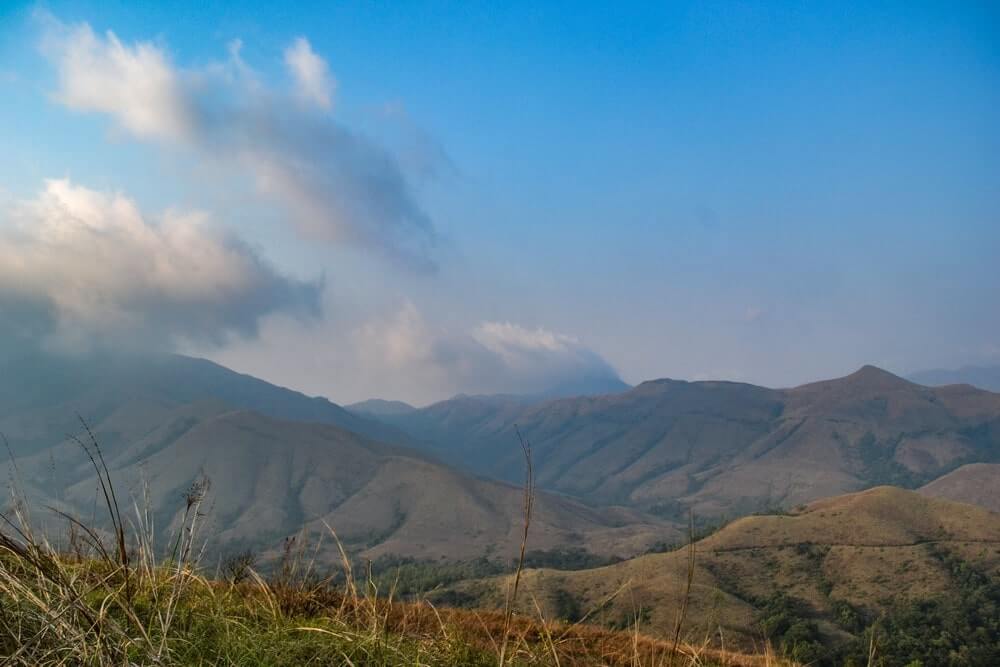 Kudremukh
Endless miles of lush green Shola forests stretched out in front of me, a million clouds (some pregnant with rain) slowly wafted down the hills, and a lonely Nilgiri Tahr made his way home. A sudden calm enveloped me as I stood there watching the sun go down. If this wasn't heaven I did not know what was!
Kudremukha National Park
The Kudremukh (literally meaning Horse Face) Range gets its name from the unique shape of its main peak. The broad hills overlook the Arabian Sea and are chained to one another by deep valleys and steep precipices. It is believed that Kudremukh served as a landmark for sailors on the western coast for over 2000 years. As yet 'undiscovered' by tourists, Kudremukh is a trekker's paradise, apart from the main trek to Kuduremukha Peak, other trekking trails are Kurinjal Peak, Gangadikal Peak, Seethabumi Peak, Valikunda, and Narasimha Parvatha. Let the wonderland of lush green forests interspersed with rivers, grassy slopes, captivating cascades, caves, and ruins amaze you as you trek your way through it. The best time to visit is after the monsoon when everything is lush green and the rivers, streams, and waterfalls like Kadambi waterfalls, Hanuman Gundi Falls are at their best. Ganga Moola is a scenic place located in the Bhagawathi forest where the three rivers Tunga, Bhadra, and Netravati originate. A shrine to Goddess Bhagavathi and a 1.8m high Varaha image inside a cave are the chief attractions here.
The Kudremukh National Park is spread across 600.57 sq km. in Chikkamagaluru and Dakshina Kannada districts, houses a variety of wildlife such as the leopard, Malabar giant squirrel, sloth bear, gaur, sambar, jackal, mongoose, tiger, wild dog, common langur, porcupine, spotted deer, barking deer and giant flying squirrel. The park is home to a variety of birds such as the Malabar trogon, Malabar whistling thrush, and the imperial pigeon.
At 1892 meters, Kuduremukh is the second highest peak in Karnataka (after Mullayyanagiri). Kuduremukh is declared one of 34 biological hotspots of the world because of its tropical biological richness. It is one of the best places to visit in Karnataka.
Kudremukh Township was primarily developed as an iron ore mining town where the Government ran Kudremukh Iron Ore Company Ltd., (KIOCL)
Things to do in Kudremukh National Park:
Bird-watching in Kudremukh: Over 200 species of birds reside or visit during the migratory season to the forests of Kuduremukh.
Trek to Kudremukh Peak: With permission from forest officials, day treks can be undertaken in the hills of Kuduremukh. Camping is not allowed. Hence, hikers need to return before sunset. Besides the popular trek to Kuduremukh peak, other trekking trails are Kurinjal Peak, Gangadikal Peak, Seethabumi Peak, Valikunda, and Narasimha Parvatha.
Top places to visit:
Kadambi Falls
Lakya Dam
Hanumangundi Falls
Gangamoola Hill
This 'World Heritage Site' is the point of origin of three rivers – Netra, Tunga and Bhadra. To arrive at Ganga Moola (also called Varaha Parvata), one has to cover a distance of 32 km on Kudremukh, by driving. Hereafter, the Kudremukh forest authority grants permission to trekkers to visit Ganga Moola. The Bhagawati forest is dense and inhabits a number of wild creatures. The origin of trekking begins from a dark cave underneath huge rocks. Water trickles at several places in between rocks inside the cave and it is advisable to carry a torch, even during the day. A temple of Goddess Bhagawati and a statue of Varaha (6 ft. or 1.8 m high) are present inside the cave at Ganga Moola. A visit to Kudremukh is generally complemented with a visit to see this holy sight of origin of 3 rivers.
Origin of rivers
Gangamoola is the origin of three rivers, Tunga, Bhadra and Netravathi.
Tunga
From its origin, the Tunga flows in a north-easterly direction passing the towns of Sringeri, Thirthahalli and Shimoga. A dam has been constructed across it at Gajanur. After covering a total distance of 147 km., it joins the Bhadra at Koodli near Shivamogga and forms the Tungabhadra river.
Bhadra
From its origin, the Bhadra river first flows east and then north-east passing the town of Bhadravathi. After travelling a distance of 178 km., it joins the Tunga at Koodli.
Netravathi
From its origin, the Netravathi flows west, passing the towns of Dharmasthala and Mangalore before joining the Arabian Sea.
Best time to visit Kudremukh
Summers and winters are both good times for visiting Kudremukh in Karnataka. Temperatures are mild and weather is quiet pleasant in summers. Kudremukh actually forms a great summer getaway in south India to escape the scorching heat. Summers are great for trekking and wildlife spotting. Winters are equally nice though it can get chillier. So, it is a good idea to carry your winter clothes.
I would advise not to visit during monsoons because the region experiences heavy showers and maneuvering through hilly roads during these times can be a tough task. In short, between October to May is a great time to visit Kudremukh.